Elliott Bay Bike Trail: a Bit of Natural History

We're in the middle of Bike Month (May 2013), so I wanted to write a bit about last year's bike commute, at least half of it: the path portion. While I rode along roads for part of my trek, my favorite part was the Elliott Bay Bike Trail. It was awesome. The path features sculpture, landscape history, landuse changes, habitat restoration, and, of course, great scenery.
Note: I changed the previous paragraph. An earlier version was different and misleading. I apologize for any confusion.
Elliott Bay Bike Trail
Also known as the Terminal 91 Bike Path (actually, that is it's official name), the trail begins at the railyards in Interbay and ends at Olympic Sculpture Park's north end (Broad Street and Alaskan Way). One write-up (NiteRider n.d.) has it beginning at Smith Cove, wrapping around the inlet to Halladay Street, then going north by the railyards until it meets the bay. So why not start at Smith Cove?
Elliott Bay Bike Trail: Smith Cove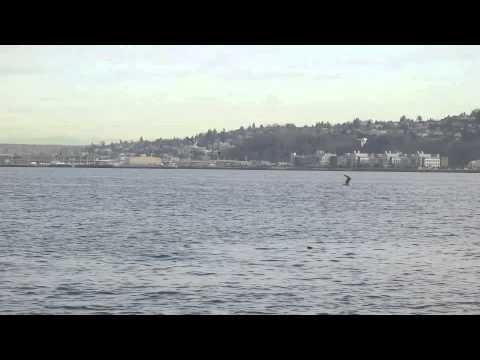 Seagulls Follow Ferry by Smith Cove and Queen Anne, Seattle by Shari Maria Silverman is licensed under a Creative Commons Attribution 3.0 Unported License.
Video above: As the seagulls keep up with the Bainbridge ferry as it sails through Seattle's Elliott Bay; they first fly past Smith Cove, then by Queen Anne Hill.
From the ferry, a large boat always seems to block a bit of Smith Cove. However, from the visible bits, you can see it is now an industrial area/harbor. Ships dock there. Cruise lines depart from there. Warehouses stand (obscured from view behind the boat). A small dog park is located at the base of the hill (also obscured behind the ship).
Before it was industrialized, however; it was tidelands. The tides stretched far back into the Interbay (which is a glacial groove, carved by ice thousands of years ago [Wilma 2001]). The tidal wetlands provided a living to the Native American village that stood nearby, called Mouth Along the Side (Thrush 2007:97). A smallpox epidemic during the late 1870s hit Smith Cove hard, however; killing numerous people (Thrush 2007:63).
Smith Cove was discovered by European Americans about 25 years earlier in 1852, when the Denny Party members explored it. They showed it to Dr. Henry Smith (its namesake) and two others during the 1852 winter. Smith and his family eventually settled there, living in the cove until 1915 (Wilma 2001). Others used the cove as well. During Smith's stay, it vastly changed. John Hill bought the tideflats in 1892 and filled them in. They transformed from marshland to the Great Northern Railway terminal. This attracted other industrial activity, making it a hub for both shipping and maritime activity. A Hooverville was in the cove during the Great Depression (Wikipedia 2012).
There is a post dedicated to Smith Cove on this website. It's link is in Related Posts near the end of this article.
Elliott Bay Bike Trail: Totem Pole
If Mercer Street continued west over the railroad yards, it would connect with the Elliott Bay Bike Trail near the totem pole. Carved in 1975 by artists of Alaska Indian Arts, the red cedar pole was decorated with mineral paints. In 2009, it was moved to this spot from one farther south along the waterfront: Pier 48 (Port of Seattle 2009). It now stands on a grass parkway between pedestrian and bike paths. A link to a video about the pole's restoration and installation is located under Link at the article's base.
A post dedicated to the pole is on this website, and is linked in the Related Posts section near the end of this article. Each totem is described and photographed within that article, and a history of Seattle totem poles is discussed as well. Therefore, this post will discuss something different that is depicted in the pole: the mosquito.
A bear holds the mosquito to symbolize that life has difficulties (Port of Seattle 2009). According to a case study of mosquito lore by Gene Kritsky and Ron Cherry, there are many myths regarding mosquitos. I'll summarize a Tlingit one below.
Elliott Bay Bike Trail: Tlingit Myth with Mosquitos
During salmon harvesting and processing, a giant would come to the village and eat the dried salmon, starving the villagers. The theft escalated into a series of events with the villagers trying to prevent the thefts and the giant eating tribe members, to a series of battles and traps. Finally, the tribe trapped the giant in a hidden, covered hole, like a bear trap. They laid branches over the giant and lit it on them on fire. After four days, the remaining ash turned into mosquitoes, which bit the villagers and sucked their blood. The tribe then realized that they could not kill the giant. Now they build totem poles with a mosquito to appease the giant (Kritsky and Cherry 2000:120-121).
I would like to note that this is not the explanation on the totem pole's interpretive sign.
Elliott Bay Bike Trail: Salmon Net Pens
Speaking of salmon, like in the tale that started it all, the Elliot Bay Bike Trail totem pole looks out to Puget Sound to salmon net pens just off the shore. In a cooperative effort, the Muckleshoot and Suquamish Indian Tribes and the Port of Seattle operate the two pens to raise juvenile Coho salmon for delayed release. Since 1994, these net pens have successfully raised salmon, which were transferred there from Muckleshoot and Suquamish hatcheries. The nets protect the fish from being eaten by fish and birds, and birds are always hanging about too. The juvenile Coho live in the pens to feed from early March to their release in late May or early June (Port of Seattle n.d.)
Elliott Bay Bike Trail: Erosion Control
One of my favorite geological engineering classes in college was Sediment and Erosion Control, so you can imagine my delight when I returned to the bike path this spring to find hydromulch (or hydroseed) sprayed over newly worked surfaces. On the right surface, a hydromulch can really do the trick. What is hydromulch and hydroseed? I'm glad you asked!
Hydromulch: A mix of fibers, glue, and water combined in a slurry to be sprayed on a surface to inhibit runoff (due to rain or other factors). It is sprayed on surfaces that have no vegetation yet (like recent construction or fire areas) that hold the soils in place. Often, it has a green dye.
Hydroseed: Like the hydromulch, only with fertilizer and seed.
Both hydromulch and hydroseed inhibit erosion until vegetation has a chance to establish itself. Hydroseed gives that chance a little boost. Now you know.
Pocket Beach and Subtidal Habitat Bench
The Seattle Art Museum (SAM) implemented a five-year habitat restoration by Olympic Sculpture Park, which the bike trail traverses near its southern end. As part of the project, a pocket beach and subtidal habitat bench was created along the shore. University of Washington's Wetland Ecosystem Team researched fish, invertebrates, riparian vegetation, submerged aquatic vegetation, and the physical beach itself. Monitoring in 2005 and 2007 of the enhanced shoreline indicate rapid development of both aquatic and land plants and animals. As a whole, juvenile Coho, like those in the salmon net pens to the north, take refuge and forage in the Puget Sound nearshore as they migrate in the Green River/Duwamish estuary (SAM n.d.). So pocket beaches and subtidal habitat benches like these provide a place to linger.
Somewhere to the north of the pocket beach along the trail was an area where Native Americans historically caught waterfowl in nets connected by two tall poles. Ducks would apparently be started at Lake Union, where they would fly westward into the nets (Thrush 2007:229). Nowadays, the Queen Anne neighborhood's buildings obstruct the flight path.
Elliott Bay Bike Trail: Olympic Sculpture Park
The Elliott Bay Bike Trail's northern end traverses through the Seattle Art Museum's Olympic Sculpture Park. Art speaks for itself, so this section will pretty much be a few photographs.
Love & Loss by Roy McMakin
Schubert Sonata by Mark di Suvero
Eye Benches by Louise Bourgeois
Link to information about Olympic Sculpture Park Artwork and Artists
Artwork and Artist Information
Elliott Bay Bike Trail: Related Posts
Link
References
Kritsky, Gene and Ron Cherry
2000 Insect Mythology. Writer's Club Press, Lincoln, Nebraska.
NiteRider
n.d. Elliott Bay Bike Trail. bikeradar.routes.com (posted online unknown date). Electronic document, http://www.bikely.com/maps/bike-path/Elliott-Bay-Bike-Trail, accessed May 16, 2013.
Port of Seattle
2009 Interpretative sign by totem pole. Port of Seattle, Washington.
n.d. Interpretative sign for salmon net pens. Port of Seattle, Washington.
Seattle Art Museum
n.d. Interpretative sign by pocket beach. Seattle Art Museum, Seattle, Washington (no date, but 2007 or after due to sign content).
Wikipedia
2012   Smith Cove (Washington). Wikipedia (last updated March 13, 2012). Electronic document, http://en.wikipedia.org/wiki/Smith_Cove_(Washington), accessed May 16, 2013.
Wilma, David
2001 Seattle Neighborhoods: Interbay — Thumbnail History. HistoryLink.org (published online July 2, 2001). Electronic document, http://www.historylink.org/index.cfm?DisplayPage=output.cfm&File_Id=3418, accessed May 16, 2013.

Elliott Bay Bike Trail: a Bit of Natural History by Shari Maria Silverman is licensed under a Creative Commons Attribution 3.0 Unported License.