Kettle Falls: Then and Now Thru Mural and Video

In northeastern Washington, the Columbia River once roared over numerous cliffs, creating what is now known as Kettle Falls. Kettle Falls was extraordinarily important culturally. For thousands of years the abundant fish runs there attracted people from all over the Pacific Northwest and adjacent regions. The numerous people in one place at one time led to great trade, marriage, gaming and other relationships. The mural above, painted on the east side of the Kettle Falls Interpretative Center, depicts the falls as they were.
Now a park stands above the site, which is drowned by Lake Roosevelt, a reservoir behind a large dam. The park is on a small peninsula, and includes many interpretive cultural features. It overlooks Fort Colville (an old Hudson's Bay trading post) now overlain by sediment and water. A replica of St. Paul's Mission stands there, as well as several other cultural features. A great, short trail meanders around the peninsula, which offers views of various parts of the drowned falls.
What strikes me is the quiet.
The whole trail is fairly peaceful, in what must have been an extraordinarily loud place, with all that water tumbling over the rocks in such a large area. Also, the sound would have echoed off of the canyon walls.
The video below shows the reservoir during drawdown. You can see some of the boulders within the sediment. A note: a woodpecker made the sporadic pecking noise in the background.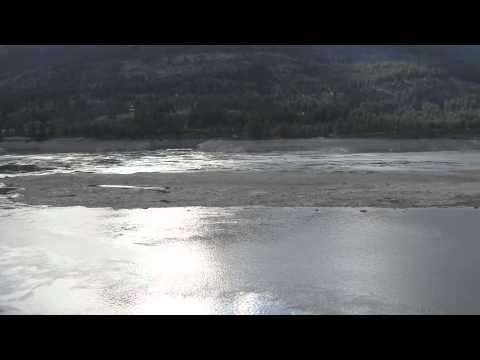 Kettle Falls Drawdown Overview by Shari Maria Silverman is licensed under a Creative Commons Attribution 3.0 Unported License.
Other Post Related to Kettle Falls pre-Dam Art